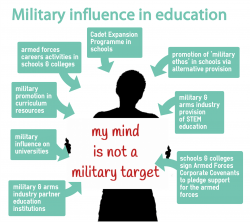 The UK armed forces visit thousands of schools each year. They offer career presentations, curriculum resources and other activities aimed at promoting the interests of the military and long-term recruitment. Since 2012, the Department for Education have promoted 'military ethos' programmes such as cadet units in state schools and 'alternative provision with a military ethos'.
The armed forces and arms companies are increasingly involved in the provision of STEM (science, technology, engineering and maths) activities for school and college students. and they also sponsor a number of careers-led secondary schools. The armed forces also now sponsor youth organisations like Girlguiding and Scouts. See more here.
Should the armed forces by given access to children within education? How can we challenge their activities in schools and colleges? How can a more balanced view of the military be given to young people?