White Poppies for Schools
---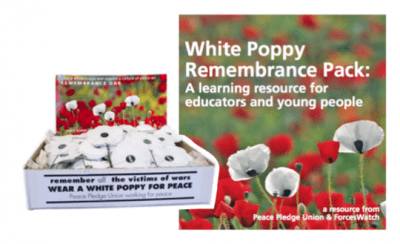 This White Poppy Remembrance Pack, which aims to explore Remembrance in a way that encourages critical thinking, and gives space for marginalised perspectives on war and peace.
It contains background information on the white poppy and what it means to those who wear it today. It also includes a ForcesWatch resource for educators, Rethinking Remembrance, which explores in depth how remembrance can be used to encourage critical thinking and foster a culture of peace, rather than sanitising, simplifying or even glorifying war. There is also information about some of the amazing organisations working to support peacebuilding and nonviolent means of transforming conflict around the world.
The learning resource can be read online here, or purchased from the Peace Pledge Union as a bigger pack including white poppies and white poppy leaflets.
Purchasing the White Poppy Remembrance Pack
The pack includes 100 White Poppies in a display box, alongside an information pack with White Poppy information leaflets and the White Poppy Remembrance Pack.
This pack would be ideal for a teacher to leave in the staff room and announce in a staff meeting, and perhaps place a few of the White Poppy information leaflets on noticeboards or near the white poppies.
As small organisations we are unable to give these packs to schools for free – and many schools will not be able to purchase them themselves. So we are reaching out to local organisations or groups committed to peace to purchase the packs and gift them to a nearby school.
The packs can be purchased from the Peace Pledge Union shop for £60 (including postage).
If you want to purchase one pack but give to more than one school, we can include more copies of the learning resource and leaflets at no extra cost, and you can distribute the poppies and packs between more than one school.
If you'd like to purchase a smaller number of white poppies for a smaller cost along with the pack, just get in touch with the Peace Pledge Union and they will let you know what the options are.
For more information, contact: sophie@ppu.org.uk (Sophie Morrison, Peace Pledge Union)
---