Misguided aim of weapons show
14/07/2018
ForcesWatch comment
The following letter was sent to the Sunday Times and a version is published here.
---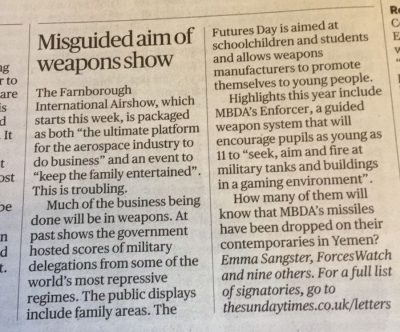 The packaging of Farnborough International Airshow as both 'the ultimate platform for the aerospace industry to do business' and an event to 'keep the whole family entertained' is troubling.
Much of the business being done will be in weapons. All top ten global arms companies will be present.
At past airshows the Government hosted scores of military delegations from some of the world's most repressive regimes.
The public displays include flypasts, exhibitions and family areas.
The Futures Day is aimed at school and university students and allows weapons manufacturers to promote themselves to young people through STEM activities.
Highlights this year include MBDA's The Enforcer which will encourage school pupils as young as 11 to 'seek, aim and fire at military tanks and buildings in a gaming environment'. How many of them will know that MBDA's missiles have been dropped on their contemporaries in Yemen?
Unfortunately, this is but one example of the numerous ways in which military interests are increasingly allowed to influence young people under the guise of education.
A more ethical approach would be to engage young people's interests in how science, design and technology can contribute to sustainable peace, healthcare, social justice, and environmental sustainability.
Emma Sangster, Coordinator, ForcesWatch
Celia McKeon, Coordinator, Rethinking Security
Mark Curtis, Author
Dr Stuart Parkinson, Executive Director, Scientists for Global Responsibility
Rowan Kinchin, Coordinator, Campaign Against Arms Trade
Jon Nott, General Secretary, Woodcraft Folk
Sophie Neuberg, Executive Director, Medact
Paul Parker, Recording Clerk for Quakers in Britain
Pat Gaffney, General Secretary, Pax Christi
Oliver Robertson, Development Manager, Fellowship of Reconciliation
Notes
See the Futures Day programme and also see the list of exhibitors in the Innovation Zone – 'a focal point for Futures Day – the industry's single largest STEM (Science, Technology, Engineering, Maths) outreach activity, attracting the next generation of scientists and engineers who will drive our sectors forward into the future'. 
See more about Farnborough International Airshow.

---
See more:
military in schools/colleges
,
military in society
,
Farnborough
,
ForcesWatch
,
STEM
,
arms trade