This webinar was recorded on 10 June 2020.
Leading critical military studies academics discuss the role and operation of the UK military in the COVID-19 crisis and, in the light of the #BlackLivesMatter protests, how militarism intersects with racism and public control at home and abroad.
---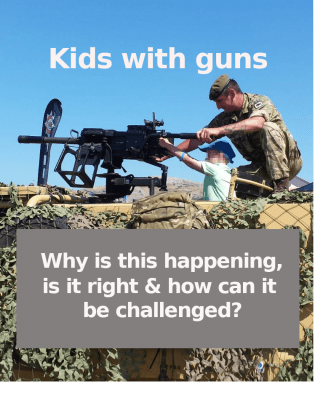 Should the armed forces encourage young people to interact with weapons and military vehicles?
Our new web resource looks at why is this happening and asks if it is right and how can it be challenged?
---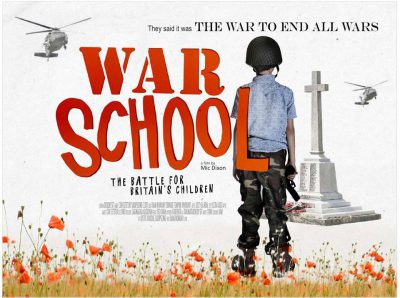 A film about recent militarism and the battle for the hearts and minds of young people in the UK. The film follows the stories of Ben Griffin, former SAS soldier and founder of Veterans for Peace UK, and Quaker activist Sam Walton, and features the work of ForcesWatch and partner organisations. See war.school and related learning resources.
---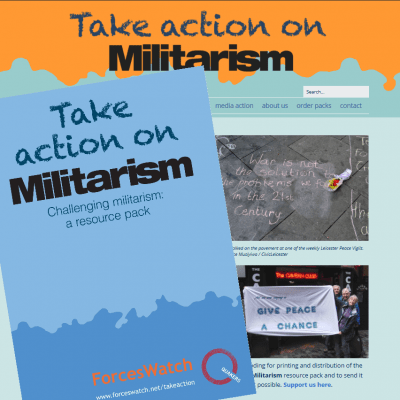 ForcesWatch have teamed up with Quaker Peace & Social Witness to produce a resource pack to help people take action on militarism in their communities. And there is a website to go with it where you can download the pack or order a hard copy, find links to more resources etc.
---
Take a look at the education resources for materials to use in schools and with youth groups.
See also Quaker resources on peace education and those provided by the Peace Education Network.


---
Do you want to raise your concerns about the involvement of the military or arms companies in your school or community? For briefings with information and advice, as well as resources for education about peace and human rights that can be offered to provide a balance, see What to do in your school/college/community.
Get in touch if you would like further help.
---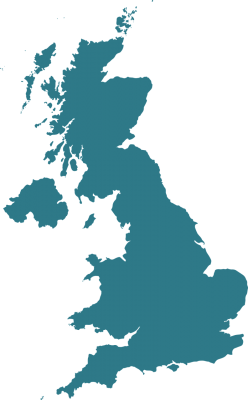 Contact your MP, other political representative or local union or political branch about the military involvement in education and raising the age of military recruitment.
---
ForcesWatch receives funding from trusts to cover our modest core costs. As a campaigning organisation we rely more heavily on donations than charitable organisations in order to secure the extra funds needed for our projects.
Make a donation to support our work.
---