The militarisation of schools
23/01/2017
The Independent
---
The UK is one of few countries that allow minors to enlist. Despite calls to cease the recruitment of under-18s the Army is digging in to hold its ground.
Two contrasting videos about life in the British Army are doing the rounds, both released this month. In the first, an Army recruitment advertisement, soldiers are trudging through miserable arctic conditions when one of them starts singing the Dirty Dancing song "(I've Had) the Time of My Life". Cue much ribbing and laughter from his comrades, instantly lightening the mood of their dreary slog through the snow.
In the second video, released by campaign group Child Soldiers International (CSI), 27-year-old veteran Wayne Sharrocks talks about his experiences training and serving with the Army in Afghanistan, where he was wounded following an IED explosion. Against another backdrop of soldiers marching through snow, Sharrocks describes how members of his platoon were encouraged to beat up a comrade believed to be underperforming in a training exercise. "I think he tried to kill himself in the toilets at some point," Sharrocks says to camera.
Sharrocks joined the Army in 2006, aged 17. He left in 2013 and has since suffered mental health problems. The UK is the only country in Europe – and one of only a handful in the world – that recruits under-18s into its Armed Forces. Groups campaigning against the practice argue that the youngest recruits are most susceptible to developing mental health problems such as PTSD – and dying in action.
Sharrocks was enlisted while still at school.
Such recruitment exacerbates the problem, say campaigners.
"The Armed Forces has more of a foothold in schools," says Emma Sangster of ForcesWatch, a group which opposes "militarist values in civilian society".
In 2012, the Government launched a raft of schemes designed to promote a "military ethos" in schools. These included a programme to expand Combined Cadet Force activity in schools and opened up the possibility of military organisations sponsoring academies and free schools. It also enabled the provision of alternative education by external military-based groups, and the fast-tracking of ex-military personnel into teaching roles in the Troops to Teachers scheme.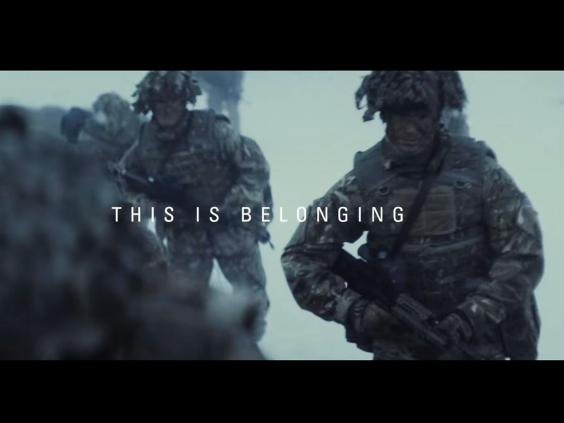 Reality is far removed from the Army of recruitment videos, say veterans 
These measures, along with continued Armed Forces visits to classrooms – around 11,000 a year – constitute, according to campaigners, a worrying militarisation of our schools and an indirect means of recruiting under-18s.
"What we know from MoD documents is that recruitment is an aim of the Armed Forces going into schools," says Sangster. "Schools provide a kind of captive audience of young people of recruitment age." 
---
See more: military in schools/colleges, recruitment, recruitment age, risks, veterans, Child Soldiers International, ForcesWatch, Veterans for Peace UK, childrens rights, education, military ethos