'Character Building' range of HM Armed Forces toys
06/07/2015
hmarmedforces.com
---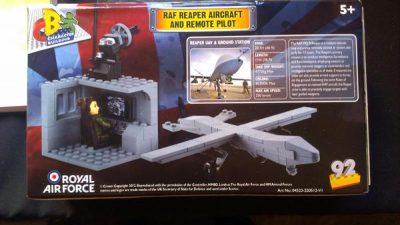 A 'Character Building' series of armed forces toys licensed by the MoD is discredited by the new Veterans for Peace UK short film on some of the things that these toys don't show, and by developments in 'character education' that indicate there is no need for 'military ethos' initiatives in UK schools.
Following the launch of Veterans For Peace UK's new short film and toys, Battlefield Casualties – in response to the overwhelmingly sanitised image of war presented by most contemporary military toys, and in response to indications that 'character education' needn't involve any military element, it's striking to come across this 'Character Building' range of Lego-like HM Armed Forces toys, licensed by the MoD in 2011, which add to a series of more 'lifelike' (though equally sanitised) action man-style armed forces toys from the same company.
The 'Character Building' range includes this RAF Reaper drone and remote pilot (photo credit: David Gee).
---
See more: military in society, character building, military ethos, toys