Scottish voices on armed forces visits to schools
23/03/2016
ForcesWatch comment
Before the closing date of our petition to the Scottish Parliament on military visits to state schools in Scotland, the ForcesWatch team went on the road to spread the word and raise awareness of the issue.
---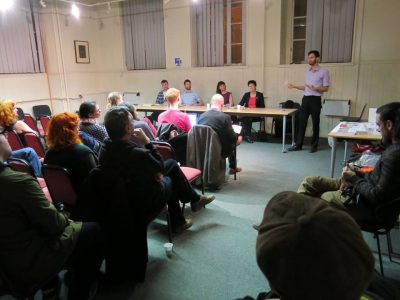 Before the closing date of our petition to the Scottish Parliament on military visits to state schools in Scotland, the ForcesWatch team went on the road to spread the word and raise awareness of the issue.
What we discovered, after public meetings in Edinburgh, Glasgow and in Aberdeen in mid-March, was a clear appetite for change. Many in Scotland – teachers, students, parents and others – are uncomfortable with the status quo of armed forces visits to Scottish schools. The country's largest teaching union – the Educational Institute of Scotland – has opposed military recruitment in schools and colleges since 2007. The Executive of the National Union of Students Scotland decided in 2015 to oppose armed forces recruitment in colleges and universities, a policy due to be ratified by the full conference this month. The Scottish Parents Teacher Council worry that students are encountering a sanitised image of the armed forces, and say parents must always be consulted about the visits.
Overall there is a willingness to see – as our petition states – 'greater scrutiny, guidance and consultation on armed forces visits'. We heard many testimonies, expert views and opinions. We were joined by members of the public and peace groups, and by military veterans and political activists including members of the Scottish Green Party and the SNP.
At each event our five key areas of concern about military visits were outlined, namely: the level and distribution of visits, types of activity – careers awareness or recruitment, lack of a balance of views on the armed forces, insufficient consultation with parents and guardians, and lack of transparency.
In Glasgow our meeting was held at the home of the Scottish Trades Union Congress. The Quaker Meeting House played host in Edinburgh, a stone's throw from the Scottish Parliament. There it was decided that a local group would be formed to challenge military visits to local schools, and militarism in the area more broadly. In Aberdeen, Conor Watt from ForcesWatch spoke. The audience included Maggie Chapman, co-convenor of the Scottish Green Party.
At each gathering there was a discussion about the petition and the concerns about military visits which lie behind it. As Owen Everett, ForcesWatch Education worker, pointed out: "Scotland receives a disproportionate number of these visits compared to constituent parts of the UK…. The most complete available data shows there were 1445 visits by the military to schools in Scotland in the two year period between 2010 and 2012. Strikingly in 2003 there were less than 15 visits [by the Army]." He went on to say that, despite this, "There is currently no specific guidance on military visits for local authorities or for schools."
The lack of regulation governing visits was highlighted by local primary school teacher, Nicola Fisher, at the Glasgow meeting. Fisher, who is vice-president of the EIS – but was speaking in a personal capacity – said, "no other adults who wanted to take a child to a place of violence would be allowed over the doorstep (of a school). So why do we allow the military to do it?" Her EIS colleague and teacher, Annie McCrae, who spoke as part of the Edinburgh panel – again in a personal capacity – provided what many felt was the rationale behind military visits: "there is a very, very clear recruitment policy (in schools). They are selling a ticket to disadvantaged young men," she said.
Conor McAllister, of Veterans for Peace UK, understands that point, having been recruited to the Navy aged just 17. McAllister had gone into a Forces Career Centre in Glasgow on a whim but was then "heavily pressurised" to sign up. "I am opposed to school visits", he said, "you don't have the capacity to make decisions at that age. You are an easy target."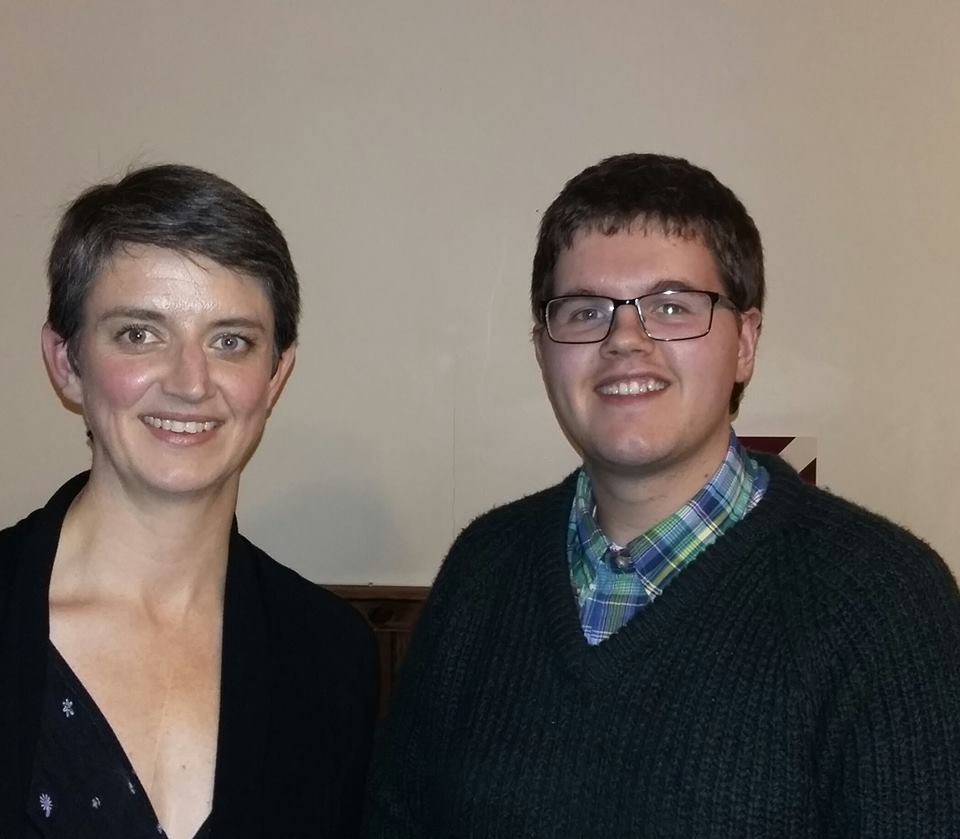 Maggie Chapman, Co-convenor of the Scottish Greens
with Conor Watt from ForcesWatch
Another member of Veterans for Peace, Geoff Martin, gave a deeply moving testimony about his own and his brother's experience of life in the army. Martin explained how he'd urged his younger brother – Maurice – to follow in his footsteps but was, he believes, so traumatised by army life it contributed to him killing a man. "I knew him before the army, but after the army we just didn't believe a word he said. "Because the army deals with human beings it's complicated. But the army doesn't realise it's complicated. The army can make or break you." Martin went to Iraq in 2003 at the outbreak of the fighting and saw first hand "people blown up, we didn't know what was a bit of tyre and a bit of body."
The psychological effects of military life were highlighted by Glasgow chair, Poppy Kohner from Resist Militarism. She told the audience how an unnamed Sergeant Major had recently warned her of "a tsunami of trauma" now facing the British armed forces after Iraq and Afghanistan.
Respectfully we now urge the Petitions Committee, and in turn the wider Holyrood Parliament, to examine the issues in order to provide best outcomes for the children of Scotland. Without doubt, visits are a major plank of recruitment strategy. We ask MSPs to recognise that the military is unlike any other employer or career choice – signing up carries the risk of killing and being killed, of maiming and being maimed. The point has been reinforced by what we have heard at public meetings – schoolchildren should not be exposed to the military in the classroom.
In total over a thousand people felt compelled to sign our petition, we are thankful to them all. These are voices which, we trust, will be heard loud and clear by policymakers at Holyrood.
Read the Common Space article about the meetings and testimony from veterans Geoff and Conor about their experiences and why they support the petition.
Some comments from petition signatories:
"As a retired teacher, I feel strongly about the way in which the Armed Forces exploit impressionable teenagers with their distorted version of what it will be like if they join up. I always opposed such school visits and fully support this campaign."
"I understand that local authorities are very short of cash for education, and may therefore welcome a military contribution to the school curriculum, especially the exciting outdoor activity which needs expensive equipment. This is an easy opportunity for military infiltration for the purpose of recruitment, implying a satisfying career but ignoring the moral considerations, the mental risks to immature brains, and the very real physical risks."
"Parents and guardians should not only be consulted in advance about these visits, but should also be invited to attend – and comment if they wish."
"I am very concerned that the MoD would appear to be targeting schools in deprived areas where there is little other employment and generally poor facilities, and offering the prospect of employment and training without necessarily informing young people of the risks involved and the constraints around leaving once they have 'signed up'. There should be employment and training opportunities which don't involve joining the armed forces."
"I do not feel it is appropriate to encourage young people at such a influential age to join the army before they have even experienced life."
See all comments from the petition
See more about the petition and the background research
---
See more:
military in schools/colleges
,
Scotland