Boris Johnson's government and the military: a look ahead at 2020
---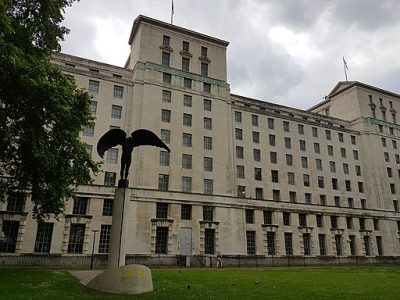 Britain is just over a week into the new government's tenure.  What this means in the long term is hard to say but critical voices will be needed. For ForcesWatch, this means questioning the government on how they will be addressing issues such as legacy legal cases against soldiers, their policy on arms sales and the role of the military industrial complex in our education system. We have also picked out two early examples of the direction of defence reform under the Johnson government which we believe bear examination.
Arms sales
Before the election, the Conservative government fiercely defended the UK arms trade as well as broader relations with key consumers of British military technology like Saudi Arabia. In a Chatham House debate two weeks before the election, Foreign Secretary Dominic Raab insisted that current arms control regulations on sales to authoritarian regimes were adequate.
A number of political parties including the Greens, Labour and the SNP supported far more stringent controls on arms in their manifestos. These ambitions remain but must now contend with an 80-seat Tory majority. This fight for human rights will continue in parliament, in the courts, and it certainly didn't stop for the election. On the 11 December a group of human rights organisations filed a case with the International Criminal Court accusing global arms giant BAE Systems and other companies of being a party to war crimes in Yemen.
Legacy cases
Across three prime ministers and various defence secretaries, the Conservatives have adopted a controversial and populist position on legacy cases from Iraq, Afghanistan and Northern Ireland, involving allegations of abuse or killing by members of the armed forces. Their position as it stood in the manifesto was to 'introduce new legislation to tackle the vexatious legal claims that undermine our Armed Forces' as well as to 'further incorporate the Armed Forces Covenant into law.'
Among the concerns about the introduction of such legislation is the impact on those still seeking justice for family members killed during the Troubles in Northern Ireland. Tory politicians have previously talked about derogating from human rights laws in this area, as discussed here a Liberty report on military justice, which perhaps suggests more an ideological opposition to human rights rather than a desire to protect the interests of serving personnel. Former army officer Johnny Mercer, who has long positioned himself as a champion of the armed forces and veterans, is now head of the UK's new Office of Veteran's Affairs, and is likely to figure highly in discussions and decisions over this issue. The reopening of parliament saw the commitment to stop "vexatious claims" form part of the Queen's Speech.
Military ethos in schools
The Conservatives have pushed hard to increase military influence within education and, with an increased majority, this is likely to continue. It is of note that they have already hit their target for 500 new cadet forces in state schools by 2020. However the government also disowned an as yet unpublished report into injecting military ethos into education, which was originally commissioned by then-Defence Secretary Gavin Williamson. Our own analysis, which contains a link to a Schools Week report on the delay, can be read here. The report is believed to still be forthcoming though the timescale remains unclear.
Unelected advisor to lead defence review
A Times article from the 16 December announced that Dominic Cummings, Boris Johnson's unelected chief adviser. will be taking charge of the evaluation of the costly military procurement process. In the same piece, it was suggested that the government is considering 'proposals to subsume the Department for International Development into the Foreign Office'. The impact of both of these developments needs to be questioned.
Fix up, defence secretary tells generals
While we expect the government to maintain or even increase defence spending during this parliament, in line with their manifesto, the Defence Secretary Ben Wallace started this new parliament by telling each service chief to address one key issue before asking for yet more funding, according to The Telegraph.
In a BBC interview, Wallace, who seems set to continue his role at the head of defence, said he had told the Navy chief to sort out operability issues with existing ships including propulsion on frigates. He also said that the head of the RAF had been instructed to deal with issues around the current pilot training scheme which, he warned, was losing personnel to civilian airlines, and had insisted that the head of the army should further improve recruitment by bringing trained soldier numbers up from 74,000 to 82,000.
---
See more:
human rights
,
legislation & policy
,
military in schools/colleges
,
veterans
,
UK Parliament
,
arms trade
,
election
,
military ethos