#ResistMilitarism on Armed Forces Day 2018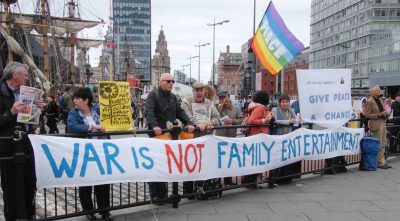 In the run up to Armed Forces Day on 30 June we provide background information on how this and other public events are part of a concerted effort to increase general support for the military amongst the public, stifle criticism and recruit young people. We list events that challenge the militarism of Armed Forces Day with messages of peace and resistance.
Merseyside Peace Network at Liverpool Armed Forces Day in 2017. Photo: John Usher.
What are you doing on Armed Forces Day?  

Since 2009 Armed Forces Day celebrations have taken place in June across the UK. Each year a different city hosts the national event. Local authorities play a primary role in organising and funding these events. Schools and community organisations are encouraged to take part. Outreach events are one part of a concerted effort to build public support for the military. The civil-military partnerships created under the Armed Forces Covenant are another. Many local authorities and other organisations have now pledged to encourage public support of the military.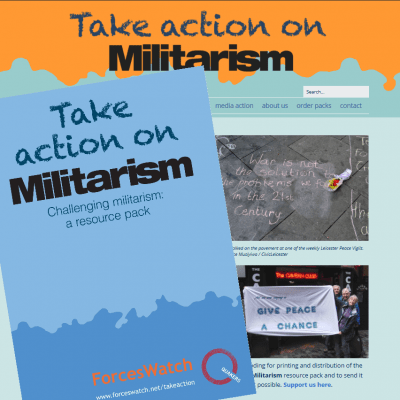 Many local councils will be facilitating Armed Forces Day events on 30 June and/or in the last week of June. The national event will be in Llandudno, north Wales, where local groups are organising alternative events.
Llandudno  - #MadHattersWarParty #AoesHeddwych
Conwy County Borough Council in north Wales will be hosting the national Armed Forces Day event this year, supported by the Ministry of Defence and the Welsh Government. It is a week-long event which culminates on Armed Forces Day itself on 30 June, and it will be located in and around the historic seaside town of Llandudno.
While the Armed Forces Day organisers are highlighting Welsh connections with the military and the defence industry, Wales also has a long history of peace activism.
For example, in 1936 the UK government planned to build a bombing school at Penyberth, after similar locations in England were met with protest. The UK Prime Minister refused to hear the case against the bombing school in Wales, despite a deputation representing half a million Welsh protestors. Welsh politician, Baptist pastor, author, and activist Lewis Valentine, and activists Saunders Lewis and David John Williams, set the building on fire (with nobody inside). All three were imprisoned for nine months and were greeted as heroes on their release by fifteen thousand Welsh people. Author and politician David John Lewis was one of the founders of Plaid Cymru, the Welsh National Party; and Saunders Lewis was a Welsh poet, dramatist, historian, literary critic, political activist and also a founder of Plaid Cymru.
Other historic and cultural Welsh links with peace activism include the National Eisteddfodd main literature awards include a ritual themed around the words 'A oes Heddwch? Heddwych!' (Is there peace? Peace!); and the march from Cardiff to Greenham Common in 1981 by the Welsh group 'Women for Life on Earth' , which initiated the famous Greenham Common women's peace camp.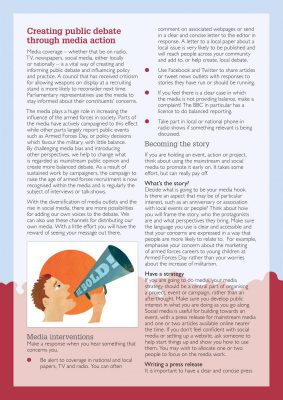 The Welsh movement for peace continues today, although it faces difficulties in a time of increasing militarisation. Read more here.
This year, Conwy peace groups and other Welsh peace campaigners and activists are organising peaceful public protest for Armed Forces Day. They will be grateful for, and can host, people who would like to join with them. (Get in touch with education@forceswatch.net to find out more).
Those familiar with Llandudno will know that the town is dotted with statues of characters from Alice in Wonderland. Alice Liddell, the girl who inspired Lewis Carroll's Alice, went to Llandudno on holidays. It is believed that her adventures in Llandudno, recounted to Lewis Carroll, inspired his Alice in Wonderland and Alice Through the Looking Glass stories.  Look out from some creative Alice in Wonderland themed protesting from Welsh peace activists this Armed Forces Day!
Llandudno events:
Read the Conwy County Peace Group press release:
 "There is an urgent need to counter militarism and focus on peace as a means for solving problems at a time of the rapid expansion of the costly and risky death and destruction technology. Also there is a need for building structures through which we can cooperate. which reflect our interconnected and interdependent relationships worldwide.
"We are concerned that young people are growing up in a society that glorifies violence and in which violence is shown as the only way to resolve conflict. We are also concerned about the recruitment of 16 and 17 year old children into the Armed Forces. Together with ForcesWatch we call for the urgent need to raise the age of recruitment to the Armed Forces.
"We fear that the uncritical support for the 30th June event will promote militarism ideology that privileges values such as hierarchy, authoritarianism and unthinking obedience. It stifles concerns about how young people are recruited and limits the debate on alternatives to war.
"We shall be expressing our concerns peacefully, publicly and respectfully on the day."
Art the Armed Forces on Wednesday 27 June - including art exhibition, spoken word and music with a great line-up! In the Tabernacl chapel, Upper Mostyn Street, Llandudno. Also on Twitter: @artarmed

"While veterans march children are allowed to play with weapons and military vehicles. When the marching band is packed up and gone home who is picking up the pieces of broken lives. No disrespect is intended to veterans but the issues about what drives conflict, who benefits from it and the wide ranging consequences of conflict need to be raised and addressed. On the 27th June at the Tabernacle in Llandudno artists, poets and musicians will be addressing these issues through various mediums including interactive media through the day. The exhibition will be followed by a concert. Louise Fazarkerly will be performing her "Love is a Battlefield" set during the evening."
Conwy County Peace Group Plan for Peace: Resist Militarism public meeting on Friday 29 June at 7pm, at Craig y Don Community Centre, Queens Road, Craig y Don, Llandudno, LL30 1TE with David Gannon, Veterans for Peace UK and Rhianna Louise, ForcesWatch.
Gathering and vigil on Armed Forces Day, Saturday 30 June from 8.30 am onwards. Gather at 'Western Gardens' (Bog-Island) at the CND symbol to stand and move with banners saying 'A Oes Heddwch? Nag oes', 'War is no Family Entertainment' and 'Stop Trident. There will be a line of people in black holding a silent vigil - wear black clothes and white poppies.
Order these small cards from us
Glasgow - #ScotlandAgainstMilitarism #SinkUDT  
At the end of June (in the week leading up to Armed Forces Day), an arms fair will be held in Glasgow. This is the 'Undersea Defence Technology 2018' event, which will see dozens of arms companies gathering from around the world. It is sponsored by BAE Systems and Babcock International, who are designing and constructing a new fleet of Trident nuclear submarines. Scottish CND, Scottish Resistance and Scotland Against Militarism are all planning to protest.
An Edinburgh spokesperson for Campaign Against Arms Trade said: 'We hope groups across Scotland will come together to oppose this Trident showcase.'
Scottish CND secretary Jean Anderson said: 'We understand the event will bring money into the city but we do not find that justified when it means supporting something morally wrong'
Sean Clerkin of Scottish Resistance said: "They are valuing money over people's lives. It should not have been supported."
Jay Sutherland, coordinator of Scotland Against Militarism, said: 'The arms industry is coming to Glasgow, a city with a proud history of standing up against war and militarism. Take a stand and let Glasgow truly flourish without an industry of death at our doorstep. Please attend and share this event: https://www.facebook.com/events/167835827222318/
Follow the groups @MilitarismScot @StopTheArmsFair @SinkUDT and @EdinburghCAAT for more information.
Southampton - A Bit of Sense on the Side - at Armed Forces Day
Southampton Food not Bombs are organisting 'a safe and positive space with music, poetry, puppetry, food, a mobile stall'.
Bring your contributions.Sunday 1 July 1-3pm at the top corner of Palmerston Park , KFC-Sprinkles crossroads/ Food Not Bombs corner.
Leicester - a silent vigil for peace
On Saturday 23 June 10am – 12 noon in Humberstone Gate.  Please wear a single colour, whichever colour you like, because we will have a sign which says 'War Hurts Everybody'. The army will have displays in Humberstone Gate for Armed Forces Day from 9.30 until 12.30. They will also march from Jubilee Square to the Clocktower to Gallowtree Gate from 11.40 – 12 following a service in the cathedral.
Other events
You can find a list of other events on the Peace Pledge Union website
Order these postcards from the Peace Pledge Union