Media coverage – whether that be on radio, TV, newspapers, social media, either locally or nationally – is a vital way of creating and informing public debate and influencing policy and practice. A council that has received criticism for allowing weapons on display at a recruiting stand is more likely to reconsider next time. Parliamentary representatives use the media to stay informed about their constituents' concerns.
The media plays a huge role in increasing the influence of the armed forces in society. Parts of the media have actively campaigned to this effect while other parts largely report public events such as Armed Forces Day, or policy decisions which favour the military, with little balance.
By challenging media bias and introducing other perspectives, we help to change what is regarded as mainstream public opinion and create more balanced debate. As a result of sustained work by campaigners, the campaign to raise the age of armed forces recruitment is now recognised within the media and is regularly the subject of interviews or talk-shows.
With the diversification of media outlets and the rise in social media, there are more possibilities for adding our own voices to the debate. We can also use these channels for distributing our own media. With a little effort you will have the reward of seeing your message out there.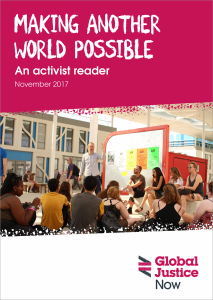 Activist guides
Global Justice Now have produced a series of campaigning and media 'how-to' guides for activists in different movements. Also see their
Making the most of the media guide
.