Militarism has a distinct history in Scotland and Wales and ties to the armed forces remain strong. Voices for peace have also been strong, and effective campaigns have been waged against aspects of militarism that have an impact locally, such as Trident and the shelved plans for a defence academy in St Athan, Wales.
As with England, areas of deprivation in Scotland and Wales have been an important source of new recruits. The armed forces are active in visiting schools and colleges.
With devolved parliaments in charge of education, campaigners have been able to challenge the promotion of the military in Scottish and Welsh schools. A petition led by Cymdeithas y Cymod, the Fellowship of Reconciliation in Wales, resulted in the Welsh Assembly agreeing to provide more guidance and scrutiny around military activities in schools. In Scotland ForcesWatch and the Quakers are petitioning the Scottish Parliament to introduce greater transparency, parental and student choice, and guidance around armed forces visits to schools.
As many people have a connection to the armed forces, it can be difficult to get beyond entrenched positions to move the debate forward. These campaigns have raised awareness and the level of
public conversation around militarism.
There is now more political activity and press coverage about military activities in local schools, the introduction of more cadet activities in Scottish schools, and the campaign to raise the age of military recruitment. The work and support of grassroots activists, youth organisations and networks concerned with child rights as well as peace and justice, has made this progress possible.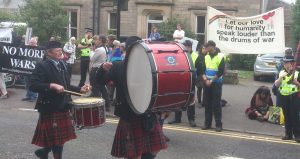 "The petition provides an excellent first step towards ensuring that school visits by the armed forces are more closely monitored and regulated. I do not believe that the decision about whether such a visit should take place, and what such a visit should entail, should be left to local discretion."
Letter from the Children and Young People's Commissioner Scotland, 2016
"As a secondary school student I have witnessed militarism towards myself and my classmates. This is one of the most important issues affecting young people and our education system. We deserve the truth not a glamorised version of the military"
Jay Sutherland, student and founder of Scotland against Militarism