What would Lennon do on Liverpool's Armed Forces Day?
21/06/2017
ForcesWatch Comment
"Peace is possible, and it isn't just inevitable to have violence... so advertise yourself that you're for peace if you believe in it."

Imagine John Lennon alive today, with a ticket to ride back to his hometown, Liverpool, on 24 June 2017, the day that the city hosts Armed Forces Day.
---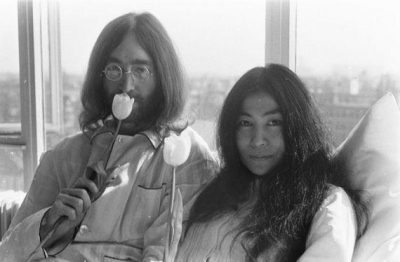 He's not going there to be a voice for peace, equality and social justice. He's not preparing for another anti-war bed-in with Yoko Ono.
No, John Lennon is abandoning his beloved peace movement for this year's Armed Forces Day, hosted by Liverpool. He's off to join the crowds who'll be cheering on the troops, waving flags proudly at guns and tanks and admiring displays of weaponry.
If this sounds unlikely, I expect you'll see the irony in the hometown of one of the world's most iconic anti-war activists, hosting a gigantic public celebration of the war machine.
It saddens me deeply to think about Liverpool, a city I know and love, transformed into a spectacle of war, with warplanes in the sky with the liver birds, field gun races and combat displays. Amongst the sponsors of the event are BAE Systems, one of the largest arms manufacturers in the world. This is a company that consistently sells weapons to oppressive regimes, despite the sanitised version of its activities that Culture Liverpool project.
"Dedicated to developing technology that keeps our armed forces safe" @BAESystemsplc sponsors @ArmedForcesDay 2017 #SaluteOurForces pic.twitter.com/MhV61vO0Xg

— Culture Liverpool (@CultureLPool) June 18, 2017
The annual Armed Forces Day is a relatively new occasion in the UK, introduced long after John Lennon's death, on the basis of government fear that the military were losing the battle for public opinion. Events take place across the UK to celebrate it (this year there are over 350), and local councils bid to host the national event, for which they receive some funding and sponsorship, but also spend significant amounts of their own money.
Had this occurred during Lennon's lifetime, surely he'd be more likely to be rallying the crowds to sing peace songs than taking part in the glorification of military prowess.
Since the days of John Lennon's calls for change, the tides of war and injustice have continued unabated. The systemic drivers of the insecurity we see across the world are climate change, global militarisation, marginalisation, economic inequality, and scarcity of resources.
These drivers continue to be reinforced and catalysed by our focus on militarised responses, and our lack of focus on long-term approaches to sustainable security.
Cultural anthropologist Margaret Mead once said: 'Never doubt that a small group of thoughtful, committed citizens can change the world; indeed, it's the only thing that ever has.'
A small group of such citizens up and down the UK is recognising and confronting militarism, and calling for the changes needed to set us on the long and winding road to peace and security (as Lennon would say: war is over, if you want it), including:
A Methodist reverend and a Quaker activist, who were recently arrested for attempting to disarm a warplane heading to kill and destroy in Yemen.
A campaigning organisation, which has taken the Government to the High Court over arms sales to Saudi Arabia.
A group of expert practitioners and academics in peace and international relations who have come together to prepare and advocate for a new, sustainable security policy.
Veterans, who are uniting to say war is not the solution to the problems we face in the 21st century.
And a sixteen year old school pupil who this Spring launched a Scotland-wide campaign against militarism.
We even just came close to electing a British prime minister who is prepared to confront our own role and responsibilities in contributing to global insecurity.
This small group of thoughtful, committed citizens is in Liverpool too, where the Merseyside Peace Network gathers.
They are uniting to champion John Lennon's anti-war message even as the city hosts the nation's annual military celebration.
Amid the helter-skelter of the armoured vehicles, displays of military assets, marching military bands, recruitment stalls and military activities for kids, some dedicated Liverpudlians will be peacefully protesting with a silent vigil and the simple words of Lennon and Ono: 'Give Peace a Chance.'
Set against the loud, brash celebrations of Armed Forces Day, while the crowds twist and shout to the tune of warfare, the quiet public resistance of this small group will be both powerful and moving.
Their choice of a silent vigil is apt, reminiscent of Lennon's adoption of the nonviolent activism advocated by Martin Luther King Jr., Mahatma Gandhi, and centuries of Quakers. All are welcome to join them. As Lennon said: "peace is possible, and it isn't just inevitable to have violence… so advertise yourself that you're for peace if you believe in it."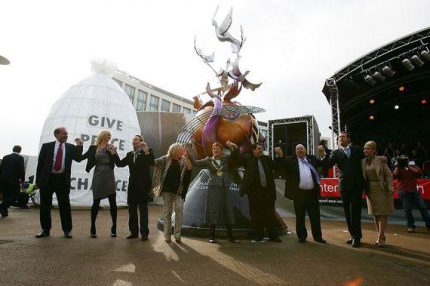 Above is the John Lennon Peace Monument, unveiled by Julian and Cynthia Lennon in 2010. The monument, commissioned by the Global Peace Initiative, is on the same Liverpool waterfront where armed forces day celebrations will take place this year on 24 June.
Contact the Merseyside Peace Network at mcnd@care4free.net, for more info on the peaceful counter vigil on Sat 24 June at the gates of The Albert Dock, Liverpool. The vigil will be held from 12.00 – 12.45 and 14.00 – 14.45.
See a list of other events challenging militarism around Armed Forces Day
---
See more:
military in society
,
Armed Forces Day