War Hurts Everybody
29/06/2018
Leicester for Peace
Leicester for Peace report on their 'War hurts everybody' vigil at Leicester Armed Forces Day on was 23 June.
---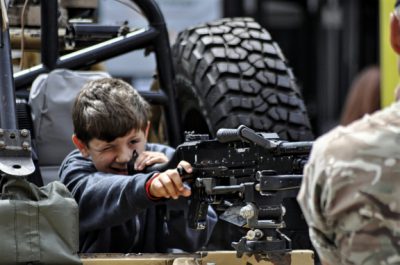 Young children were being encouraged to handle the weapons, despite the Mayor's previous assurances that this would stop. While many passers-by thanked them for being there, the Army asked the police to stop them photographing the recruitment display.
This year in Leicester Armed Forces Day was 23 June whereas in most other places it will be 30 June. Those of us concerned about these public displays and the militarisation of young people had received assurances from our City Mayor that children would not be allowed to handle guns at these events (see details here). and so a group of us spent two hours in the city centre at the display of weapons and big trucks and recruitment games.
Seventeen of us held a silent vigil facing the army in a long line, some holding the Peace Pledge Union cards which said 'War is not Family Entertainment.' Some held a Quaker banner. On a table in the middle a large placard said 'War Hurts Everybody'.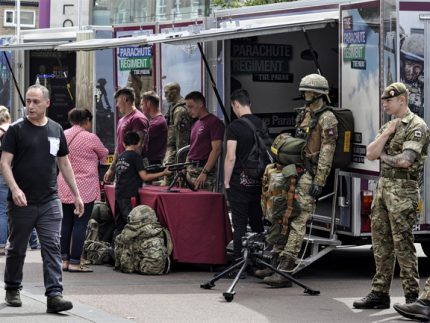 We also had beforeyousignup cards on the table and other information about under-18 recruitment.
Many passers-by thanked us for being there.
Meanwhile we had someone taking photographs of what the armed forces were doing, especially when they allowed children to handle the guns.
An army officer told our photographer he did not like the photography and would ask the police to move him on. The police then came and told him the army were uncomfortable with photographs being taken and the photographer explained he was breaking no laws as this was a public event and he, and many others, were uncomfortable with the army allowing children to handle guns. Would they please pass this on?
We all dressed in a single colour – pink, grey, blue, purple, green, black and orange to emphasise the 'everybody' hurt by war. We were glad we were there.
We will report to the City Mayor.
See more photos from the June 23 Humberstone Gate (Leicester) army recruitment display.
Leicester for Peace are asking people to contact local councillors to insist that the army stops displaying military hardware and weapons in public spaces in Leicester, and that no child under the age of 18 should be allowed to handle weapons at army recruitment drives in Leicester. See details of more suggestions for how to support Leicester for Peace with this work.
Read more about Resisting militarisation in Leicester. 
Photos taken by CivicLeicester
---
See more:
military in society
,
recruitment
,
recruitment age
,
Armed Forces Day