Protesting Armed Forces Day in Liverpool
26/06/2017
ForcesWatch comment
---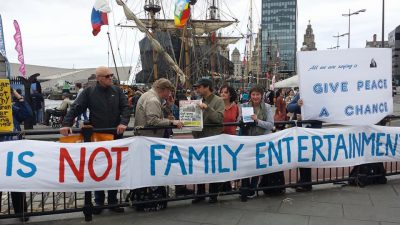 Today, on Saturday, June 24th, Liverpool is hosting Armed Forces Day in Britain. Armed Forces Day is a relatively new occasion in the UK; it began as Veterans' Day, in 2006, and was then renamed Armed Forces Day in 2009 in response to declining public support for the armed forces. Events take place across the UK (this year there are over 350), and local councils bid to host the national event – for which they receive a small amount of government funding and sponsorship, and also spend significant amounts of their own money.
As someone who has spent much of her life near Liverpool, I am surprised and dismayed by how a city with so much radical history is now being treated as a celebration ground for the British military. I grew up in a small town near Liverpool, and in my teenage years, the city centre was my weekend haunt. My favourite street was right outside Liverpool Central Station – Bold Street, lined with independent and ever-changing cafes, shops and food from all over the world – leading up to the bombed-out church, as we called it (I only know now, years later, that it's called St Luke's Church). One of my favourite places to visit was News from Nowhere, a radical bookshop that feels vibrant, warm, open, outspoken and welcoming – like the city itself.
In Liverpool, a crushingly violent history is weaved into the fabric of the city. An early memory is visiting the International Slavery Museum as a child, and learning about the horror and brutality that is physically present in much of the city. Its stunning stone buildings were built using slave money, and its streets are named after slave owners. Additionally, the River Mersey remains murky after gunboats arrived to help crush the Liverpool Transport Strike of 1911. Liverpool feels like something of an island in England, mainly because of how it has developed a reputation as a leftist hotbed, and these various events are a major reason why that is the case. Indeed, passed down memories of the violence were a key part of my schooling, reading, and understanding of the world, even more so in light of the economic devastation that followed the closure of the old docks in the seventies and eighties.
Liverpool's city council, defence companies, and indeed the military itself, have ignored this history. Instead, they focus on the city's naval industry, involvement in World War II, and its connections with the military and defence companies like BAE Systems. It is clear that there are two sides of the city. One is a story of radical activism, punctuated by revolutionary trade unionism, events like Bloody Sunday, the music of John Lennon, and the various peace and anti-war groups currently in the Merseyside Peace Network. Another has been generated by slavery, colonialism, and policing, the legacy of which is reflected in the uncritical nationalism of Armed Forces Day. The two stories obviously clashed on Saturday, with vast crowds cheering on the troops, as warplanes flew overhead, and another smaller group of people held a silent vigil next to a banner that reads "Give Peace a Chance."
As someone who grew up near Liverpool, and studied its history I reject such a shameless display of war and armed violence on its streets. In 1911, gunships traveled up the River Mersey to crack down on revolting crowds during the transport strike, but on Armed Forces Day, warships and troops have been welcomed with cheers and celebrations. It is as though the police never baton charged a crowd of 85,000 people on August 13, 1911, injuring hundreds. It is as though soldiers didn't open fire on a crowd on Vauxhall Road two days later, killing two people and injuring fifteen. Our alternative protest was small, but in my view, it is a far more honest depiction of Liverpool and its difficult past. The city's history needs to be remembered properly, along with its involvement in slavery and colonial violence all over the world. It cannot be glossed over with expensive parades, and crowds happily cheering on soldiers and gunships that would have fired on them a century ago.
Photographs courtesy of Bernie Kennedy.
---
See more:
military in society
,
Armed Forces Day