Notes on attending the inquest into Sean Benton's death at Deepcut barracks
24/07/2018
ForcesWatch comment
Last week the Coroner at Working Coroner's Court delivered the findings into the circumstances of Sean Benton's death at Deepcut Barracks in June 1995. Sean was the first of four soldiers to die there between 1995 and 2002. ForcesWatch have been monitoring the inquest; this article shares our records from the inquest and notes on the final findings. Download the full notes
---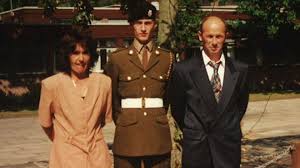 It was only on certain days of the inquest – for example, when Sergeant Andrew Gavaghan took the stand, and for the verdict, that the small room at Woking Coroner's Court was full. On most days, other than lawyers for Sean's family, for the Ministry of Defence and for Surrey Police, there were few attendees: members of Sean's family, their legal representatives from Liberty, an independent journalist dedicated to covering Deepcut, and the mother of Geoff Gray, another young person who died there.
Diane Gray was there without fail, listening like the Coroner to evidence from former Deepcut recruits and military personnel who knew Sean. The inquest into her own son's death will begin next year; the second pre-inquest hearing also took place last week.
Speaking with Diane showed her to be a person with an extraordinary capacity for strength and resilience, fighting to get justice for her son and for others who suffered like him. There was frustration from years of fighting, the failure to get a jury, and the disappointing probability that the inquests will not go to a criminal court. The overwhelming sense was of the exceptionalism of the military with regards to justice and human rights, the feeling of powerlessness and the immense impact of the Deepcut abuse and deaths on individuals and families.
The evidence heard during the inquest included testimonies of abuse impacting many recruits other than Sean. While lengthy and thorough the inquest was far from all-encompassing. Only evidence of physical and mental bullying was heard; evidence of sexual abuse at Deepcut was not included in the remit of the inquest.1 It is also important to note that this inquest, while vital for uncovering and sifting through the evidence relevant to Sean's death, was not a criminal investigation nor was it a public inquiry. The Coroner noted in his factual findings:
'This is not a public inquiry into the training of RLC soldiers at Pirbright and Deepcut in the mid-1990s, let alone an inquiry into the wider state of the army at the time. It is not within the scope of my statutory powers to consider or address every alleged adverse event or shortcoming at Deepcut or to make detailed findings about responsibility for any identified or admitted failings in the systems and structures in place. Nonetheless, it is within the scope of this inquest to consider how army policies and systems operated for those entering the RLC in 1995 in so far as consideration of this wider background is relevant to my investigation into the circumstances by which Sean Benton came by his death.' (p.9)
It was tragically clear that over twenty years later, many people are deeply affected by what they experienced as teenagers or young people in army training. One former recruit said during the Inquest: 'I sometimes dream about not finding my uniform… once I didn't have it and I borrowed someone else's. It didn't fit me and I didn't have any tights. I still dream about it sometimes – the fear. It's never gone away, I'll never forget it… Not just the night [when Sean died] but the whole time there will stay with me forever. I think of it when I'm with my son, my daughter…they want to join the Army and I won't let them.' (ForcesWatch, notes from attending the inquest)
Sean himself, besides his disappointment and shame upon hearing he was going to be discharged, expressed discontent with his treatment in the Army in his final suicide letters. His letter addressed to his parents ended:
'For ages I been trying to apply for a week's leave but they wouldn't let me have it… & they all knew that I needed a break from blackdown and that I was cracking up but they just said I wasn't entitled to it, so can you see Gill Barwick & ask her if she could see a lawyer to see if you can get anything out of this, ask her to get the lawyer to have a look at my Army Medical reports, thanks. Love, Sean xxx' (p.92)
Also see Deepcut – another verdict; still more questions….
---
See more:
recruitment age
,
risks
,
Deepcut
,
bullying and assault
,
mental health