Facts or Anecdotes? The battle for the truth over the outcomes of military service
We look at recent reports on the levels of abuse in the armed forces and growing ackowledgement of the systemic failures in how complaints are handled.
---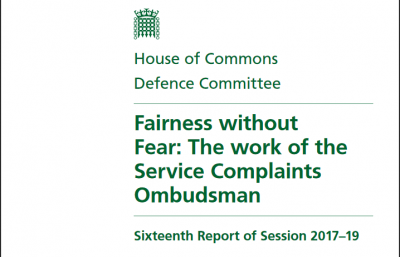 Every time new research speaks to the negative outcomes of military service a number of serving personnel and pro-military veterans – spontaneously or otherwise – take to social media to relate their own positive anecdotal experience. This was again the case with the recent Child Rights International Network report on the army's targeting of recruitment towards young people from socially deprived backgrounds.
'The army made a man out of me!' is one common claim, alongside others like 'I wouldn't be where I am today without joining up" and "I'd be dead or in jail if not for the military.'
This last one deserves particular attention today following a report in the press on Sunday suggesting that veterans are the biggest occupational group in UK jails.
Dr Nicholas Murdoch, head of research at military charity Care After Combat, told the Sun newspaper: 'Veterans are the biggest occupational group in prisons. The convictions are quite broad. Violence is common and we're seeing more individuals who served in recent conflicts.'
Frances Crook, CEO of the Howard League for Penal Reform, quickly followed up on Twitter, referencing her organisation's report on veterans in jail. Titled The Report of the Inquiry into Former Armed Service Personnel in Prison, the League's study found that many ex-military personnel jails were serving time for violent or sexual crimes against women and children.
These figures alone are enough to problematise the narrative proposed by the military and some former personnel of service route to socio-economic advancement. Yet only a day before the Sun's report the Telegraph carried an equally disturbing story.
Forward Assist, a veteran's charity operating in the north-east of England, had reported that in an ethnographic study of 100 female veterans from different periods of service over 50 percent of the women reported having been sexually assaulted in service.
'I was expecting to find the women were suffering combat-related stress, such as PTSD. But I didn't expect this level of military sexual trauma. I was deeply surprised and shocked by the study's findings,' Tony Wright, the former marine and social worker who founded the charity, told the Telegraph.
He went on to say that, 'This issue needs to be recognised fully by the Ministry of Defence. There needs to be a system in place that supports those who have experienced sexual and physical assault, whether that person is male or female. That specialist support should be made available for both servicing servicemen and servicewomen and veterans.'
The extent and nature of these kind of experiences, which jar so much with the 'satisfied veteran narrative', is of particular note given the recent findings of the Defence Select Committee in its report on the Armed Forces Service Complaints Ombudsman's (SCOAF) work, to which ForcesWatch submitted evidence on the particular vulnerability of recruits under the age of 18.
'The slow progress of the Ministry of Defence in implementing recommendations from the Ombudsman's previous Annual Reports is unacceptable and erodes Service personnel's confidence in SCOAF's ability to make positive changes,' the Defence Committee's investigation found.
'We seriously doubt that the current Service complaints system is fit for purpose. Service personnel have little faith in it, with surveys indicating that many personnel choose not to make a complaint—in some cases because of worries about the impact on their future careers.'
Whether any system which is internal to the MoD can successfully tackle these issues remains to be seen.
Just days before these damning findings were published, the MoD put out their own Report on Inappropriate Behaviours, a hastily assembled response to news reports in April that six soldiers had been arrested on allegations of sexual abuse towards a 17 year old female recruit.
In this review, the MoD recognised that, 'A significant number of our people have experienced bullying, discrimination and harassment, including sexual, but have not felt able or been able to come forward to report it.' A series of new measures have been announced including a new defence authority to make it easier to report offences anonymously.
Liberty have voiced concerns that the measures are inadequate. Whether any system which is internal to the MoD can successfully tackle these issues remains to be seen.
There is no doubt that some people probably do come out of the army and thrive, and there is no need to deny anyone their experience to put forward a different view. However, there is significant evidence and acknowledgement to suggest that individual anecdotes by the vocal minority who maintain they benefited are not nearly enough to explain adequately the outcomes of military service.
---
See more:
equality
,
human rights
,
risks
,
Child Rights International Network
,
Service complaints
,
bullying and assault