Militarisation in everyday life in the UK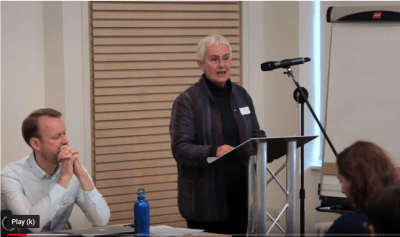 This event, held in London in 2013, brought together academics, writers, activists and campaigners who are researching, writing, campaigning on, or just concerned about the implications of the militarisation of everyday life in the UK.
Many areas of society in the UK have seen a growing involvement and/or visibility of the military over recent years - from the growing influence of the military and military approaches in schools, to greater presence and privileging of the military in local communities. In response, there has been a corresponding increase in academic studies, media coverage, and work by campaigning organisations and others on this.
In Globalisation and Militarism, Cynthia Enloe, one of the foremost thinkers and writers in this area, states that, 'To become militarized is to adopt militaristic values and priorities as one's own, to see military solutions as particularly effective, to see the world as a dangerous place best approached with militaristic attitudes.' This event explores the process and outcomes of militarisation, focusing on recent developments in the UK and how it is experienced in the everyday life of individuals and communities.
See videos of 12 presentations that were made at the conference

Speakers

Presentations made include:
Diana Francis, writer and conflict transformation/peacebuilding trainer and consultant, currently focused on demilitarisation and the development of a radically new approach to international relations
Bryan Mabee, Senior Lecturer, Politics and International Studies, Queen Mary University London, author of Understanding American Power: The Changing World of US Foreign Policy (Palgrave MacMillan, Oct 2013).
Victoria Basham, Senior Lecturer, Politics, University of Exeter, author of War, Identity and the Liberal State: Everyday Experiences of the Geopolitical in the Armed Forces (Routledge, 2013).
Vron Ware, Research Fellow, Sociology, Open University, author of Military Migrants. Fighting for YOUR Country (Palgrave Macmillan, 2012) and the Up in Arms blog on Open Democracy
Kevin McSorley, Senior Lecturer in Sociology, University of Portsmouth and author of War and the Body: Militarisation, Practice and Experience (Routledge, 2012)
Sian Jones, feminist nonviolence antimilitarist activist with Women in Black
Chris Rossdale, City University London, focusing on the politics of security and the politics and philosophy of resistance
Daniel Bos, doctoral student at Newcastle University, examining the popular geopolitics of military video games
Sarah Bulmer, University of Exeter
Ann Feltham, Campaign Against the Arms Trade
Shahrar Ali, Green Party spokesperson on International Affairs
Saskia Neibig, Woodcraft Folk
David Gee: works with ForcesWatch and author of Holding faith: creating peace in a violent world (Quaker Books, 2011) 
Emma Sangster, ForcesWatch Coordinator
The event was organised by ForcesWatch with the help of an external organising committee. It is financially supported by Quaker Peace and Social Witness and The Andrew Wainwright Reform Trust.