Spectacle, Reality, Resistance: Confronting a culture of militarism
---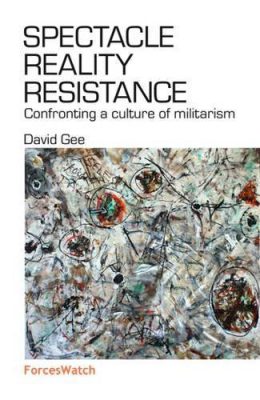 By David Gee, published by ForcesWatch 
At a comfortable distance from warfare, our culture easily passes over its horrific reality in favour of an appealing, even romantic, spectacle of war. Militarism, past and present, attempts to control public opinion by aligning it with its own worldview.
In his new book, Spectacle, Reality, Resistance: Confronting a culture of militarism, David Gee takes a fresh look at a culture of militarism in Britain, exploring these dynamics – distance, romance, control – in three essays, accompanied by three shorter pieces about the cultural treatment of war and resistance to the government's increasingly prodigious efforts to regain control of the story we tell ourselves about war.
David Gee is a writer and campaigner on the ethics of military recruitment, mental health of veterans, and the role of citizens in building peace and resisting war. He is a co-founder of ForcesWatch and former director of Alternatives to Violence Project.
ISBN: 978 0 9930955 0 4, 148pp
Get in touch if you would like David to speak about the book at an event
You can also buy the book on Amazon
---