Soldiers at 16: Sifting fact from fiction
---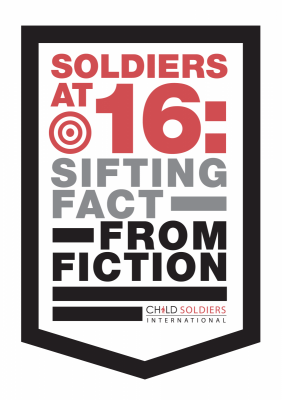 Published by Child Soldiers International, this short and accessible booklet addresses questions often raised about under-18s in the armed forces, presenting the facts – based on extensive research – rather than the fiction. Also contains very useful quotes and statistics. Great when talking to your MP or for those thinking of enlisting!
Fewer than 20 countries worldwide still allow their armed forces to recruit young people from age 16. The UK is among them; it is the only major military power and the only European state to recruit from such a young age.
Across British society – from children's organisations to veterans to parliamentary committees – this policy is now being challenged. Most of the public agree that change is due – only one in seven thinks that 16 is an acceptable age to train as a soldier.
Despite this widespread unease, a number of common misconceptions still lead many 16 and 17 year olds to leave their education early and enlist. This booklet examines these 'myths' in light of the evidence available.
The fact that the British armed forces continue to recruit from the age of 16 sets a poor example internationally and impedes global efforts to end the use of child soldiers. The Army surely does not need to make youngsters sign up formally at such a young age – there have to be other, better ways to meet our requirements whilst respecting our human rights obligations.
Major General (retd) Tim Cross CBE
---