Selling the military: A critical analysis of contemporary recruitment marketing in the UK
---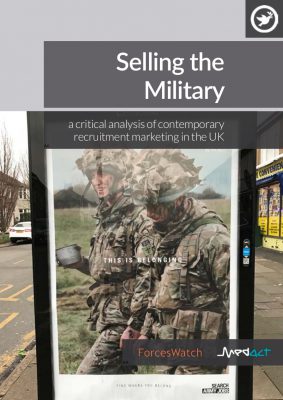 This report, written by ForcesWatch and published with the public health charity Medact, analyses the way the armed forces market their careers to adolescents and young people, creating powerful messages that which exploit developmental vulnerabilities and social inequality, risking the health and well-being of recruits. Narratives of camaraderie and self-development also serve to promote an uncontroversial and depoliticised idea of the military more widely which promote self-fulfilment in the context of conflict.
The report calls for military marketing campaigns to be evaluated and regulated in line with recent developments in medical understanding of adolescent psychologies, how young people are more vulnerable to sophisticated marketing techniques, and in the context of recent research on the risks associated with military recruitment for young recruits in particular.
It recommends that the interests of the youngest recruits would best be safeguarded by raising the age of recruitment to 18. It also makes recommendations for increasing accountability, transparency and critical awareness around military marketing.
Read our article in The Independent
Read our article in The Morning Star
Read the associated article in BMJ Paediatrics Open
Selling the Military films
At the launch event for our report with Medact on Selling the Military: A critical analysis of contemporary recruitment marketing in the UK, contributors and participants told us why they think this is an important issue.
This presentation summarises our Selling the Military report.
---