Mind the Gap: Education for minors in the British armed forces
---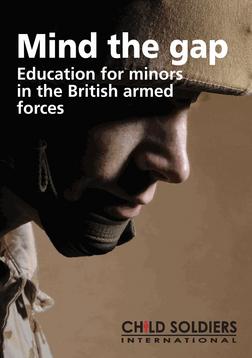 The minimum recruitment age for the British armed forces – 16 years – is one of the lowest in the world. The Ministry of Defence has traditionally justified recruiting from this age group by asserting that 16 years reflects the minimum statutory school leaving age.
However, as a result of successive governments' policies to increase upper secondary education participation rates, over recent decades the number of young people leaving education and entering employment before the age of 18 has decreased significantly. Today, only a very small percentage of young people leave education at 16 (six per cent in 2009/2010). Apart from the Ministry of Defence, the only other institution which seeks to attract and retain this age group is the education system itself. It is with schools and colleges, not other employers, that the Ministry of Defence directly competes to recruit young people.
The Ministry of Defence has argued that it offers good training and education opportunities to young people. It currently spends at least three times as much on Phase One training for minors than on equivalent training for adults. However, examination of the education on offer at the army's two Junior Entry "colleges" – the Army Foundation College Harrogate and the Army Technical Foundation College Winchester – reveals that the provision is extremely limited. Academic subjects cover only English, maths and Information Technology (IT) and only lead to low level qualifications described as "fundamentally flawed" by the Wolf Report, an expert review of vocational education commissioned by the Department for Education in March 2011. Training and education focus largely on specialised military skills of very limited transferable value to civilian employment. Furthermore, army personnel can undertake additional courses of instruction only if they agree to extend their minimum service period beyond the term of their original enlistment agreement. This additional service period in the army could be up to six years. As a result, the combined academic and vocational opportunities cannot be regarded as being in keeping with the recommendations of the Wolf Report.
This report concludes that the impact of recruitment below the age of 18 opens up a number of gaps that have long term significance, not only for the armed forces but also for the young people that they recruit. At a time of considerable downsizing of the army in particular, the large gap between the cost of training minors (who cannot be deployed operationally) and adults (who can) is difficult to sustain. But perhaps the most significant cost is in the detrimental impact that the gaps identified have on the future prospects of minors recruited by our armed forces.
---