Journeys in the Spirit: Quakers and the military
---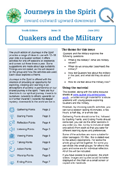 The youth edition of Journeys in the Spirit (number 19) provides a range of ideas to use with 12–18 year olds in a Quaker context.
Quakers and the Military includes listening, talking and action points and explores the following questions:
What is the military? What are military values?
When do we encounter (see/meet) the military?
How did Quakers feel about the military in the past, and what did they do about it?
How do we feel about the military now?
Additional resources can be found here.
---