Does the military give young people a 'leg up'? The armed forces and social mobility
---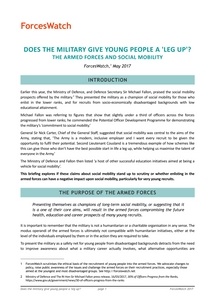 In early 2017, the Ministry of Defence, and Defence Secretary Sir Michael Fallon, praised the social mobility prospects offered by the military. They presented the military as a champion of social mobility for those who enlist in the lower ranks, and for recruits from socio-economically disadvantaged backgrounds with low educational attainment.
Michael Fallon was referring to figures that show that slightly under a third of officers across the forces progressed from lower ranks; he commended the Potential Officer Development Programme for demonstrating the military's 'commitment to social mobility.'
General Sir Nick Carter, Chief of the General Staff, suggested that social mobility was central to the aims of the Army, stating that, 'The Army is a modern, inclusive employer and I want every recruit to be given the opportunity to fulfil their potential. Second Lieutenant Cousland is a tremendous example of how schemes like this can give those who don't have the best possible start in life a leg up, while helping us maximise the talent of everyone in the Army.'
The Ministry of Defence and Fallon then listed 'a host of other successful education initiatives aimed at being a vehicle for social mobility'.
This briefing explores if these claims about social mobility stand up to scrutiny or whether enlisting in the armed forces can have a negative impact upon social mobility, particularly for very young recruits.
It concludes that:
Those who are truly concerned with social mobility must challenge the promotion of the military within education in particular and call for a rise in the minimum recruitment age to 18. Young people from all backgrounds much be given a greater range of opportunities and the myth that the armed forces will guarantee a rewarding and long-term career must not be allowed to prevail.
---