Concerns about armed forces visits to secondary schools in Wales
---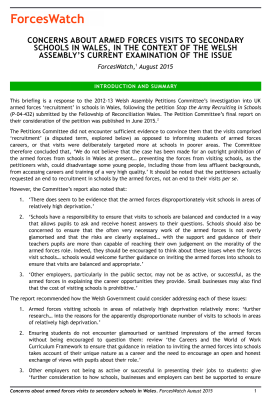 This briefing is a response to the 2012-13 Welsh Assembly Petitions Committee's investigation into UK armed forces 'recruitment' in schools in Wales, following the petition Stop the Army Recruiting in Schools (P-04-432) submitted by the Fellowship of Reconciliation Wales.
The Petition Committee's final report on their consideration of the petition was published in June 2015.
This briefing supports the Petition Committee's recommendations to the Welsh Government by presentingthe key evidence that armed forces visits to secondary schools in Wales:
are disproportionately high to schools in more disadvantaged areas;
do not present a balanced view of the armed forces;
and, are more numerous and more career-focused than visits by most other employers(particularly the emergency services).
This briefing also presents evidence that:
armed forces visits to schools are motivated by an agenda of engaging students in a long-termrecruitment process;
quality and transparency of armed forces record-keeping makes a full study of the extent of visitsto schools problematic.
Read our response to the Welsh Government's accepting the recommendations
---