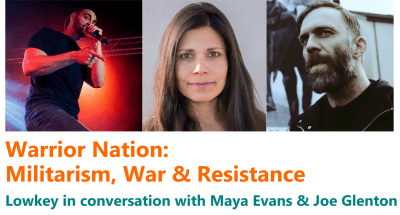 Militarism, War and Resistance:
Lowkey in conversation with Maya Evans and Joe Glenton
Wednesday 4 December 2019, 7pm
Housmans Bookshop, 5 Caledonian Road, London, N1 9DX

This event will be a live recording of the ForcesWatch Warrior Nation podcast with renowned political hip-hop artist Lowkey, co-hosted by anti-war activist Maya Evans and author and former soldier Joe Glenton. Topics will include the current state of militarism in the UK, Britain's love affair with war at home and abroad and how we can resist through culture.
Tickets cost between £1 and £5 (redeemable against any purchase) and are available here.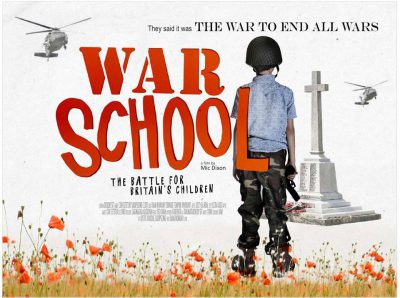 A new film about recent militarism and the battle for the hearts and minds of young people in the UK. The film follows the stories of Ben Griffin, former SAS soldier and founder of Veterans for Peace UK, and Quaker activist Sam Walton, and features the work of ForcesWatch and partner organisations.
See here for screenings and how to organise one. See war.school.