Resources
Who were the conscientious objectors of the first world war?
Many Britons would hold assumptions about the sort of men to object to military service. But few would know that among those who were conscientious objectors were an 'ostrich feather manufacturer', an 'inventor of ideas for advertising' and a 'salesman, magnetos and dynamos'.
Now, after having mined the national archives for the numbers behind thousands of documents, we have found fascinating details about the men who said no.
We know, for example that three butchers requested to be exempted on the grounds that their work was in the national interest. A variety artist in Twickenham along with Woolf Feather, a boot cutter from Thundersley provided the same reason.
A brief background
In 1916, the new Military Service Act was introduced in the UK. It required all men aged between 18 and 41 to register for military service unless they possessed a certificate of exemption.
To obtain that certificate, men could apply to a tribunal, and if they were refused they could still attempt to be excluded from Military Service by going to the Middlesex Appeal Tribunal. On 22 January, the National Archives released the records of the Middlesex Tribunal for the first time.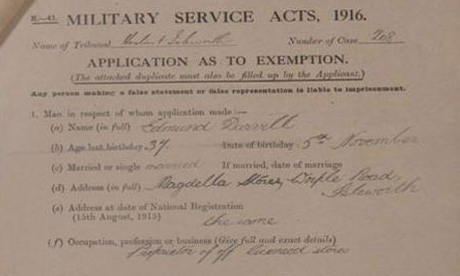 Source: National Archive