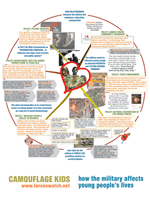 A ForcesWatch poster showing policy, cultural and other recent developments affecting the extent of military influence in young people's lives.
---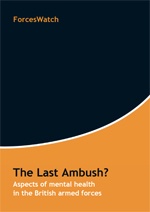 This report from ForcesWatch, shows that young soldiers recruited from disadvantaged backgrounds are substantially more likely than other troops to return from war experiencing problems with their mental health. It calls for the policy of recruiting from age 16 to be reviewed so that the greatest burden of risk is not left to the youngest, most vulnerable recruits to shoulder.
---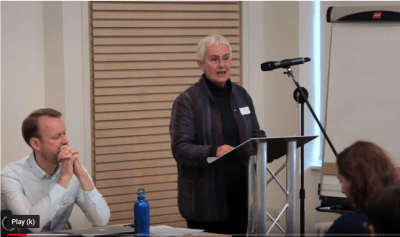 This event, held in London in 2013, brought together academics, writers, activists and campaigners who are researching, writing, campaigning on, or just concerned about the implications of the militarisation of everyday life in the UK.
---
This paper, published by ForcesWatch and Child Soldiers International, indicates that the risk of fatality in Afghanistan for British Army recruits aged 16 and completed training has been twice as high as it has for those enlisting at 18 or above.
---
ForcesWatch's submission to the Defence Committee's inquiry Future Army 2020, which recomments an evaluation of the case for an independent review of the minimum age of recruitment into the Army with a view to recruiting only adults (aged 18 and above) in the future, looking at five reasons why the time is right for this.
---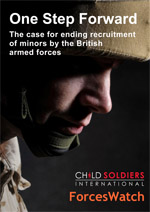 This report published by Child Soldiers International and ForcesWatch outlines the numerous ethical and legal concerns related to rhe recruitment of under-18s, including the disproportionately high level of risk they face and long-term consequences for their employability, as well as detailing how much more it costs than recruiting only adults.
---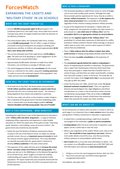 A ForcesWatch briefing on the Government policy of expanding cadets and promoting 'military skills and ethos' in schools.
---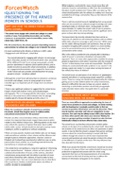 This ForcesWatch briefing is for parents, students and teachers concerned with military activities in their school.
---
ForcesWatch's submission to the Armed Forces Bill committee raising concerns relating to the human rights of service personnel with the Armed Forces Bill Committee and making a number of recommendations to bring the UK into line with current international standards and improve terms of service.
---
This briefing explains how the armed forces recognise the right of serving personnel to be discharged if they develop a conscientious objection but this right is not set out clearly in legislation, is not mentioned in the terms of service and many, perhaps most, forces personnel are unaware of it.  The system for registering a conscientious objection is opaque and little information about it is easily available.A briefing outlining the issues and recommendations of how to make registering a conscientious objection accessible to armed forces personnel.
---