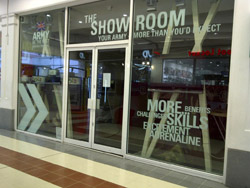 A controversial Army recruitment office has closed just two years after it opened amidst protests by anti war and gun campaigners.
The state of the art recruitment shop in Kingsland Shopping Centre boasted a virtual battlefield simulator which gave visitors he chance to use their friends as target practice with a replica handgun.
The centre was one of three pilots with others in Hounslow, west London and Maidstone in Kent.
At the time Lucy Cope the founder of Mothers Against Guns said it was insensitive to house the showroom in a borough where lives had been blighted by gun crime.
Campaigners from Hackney Stop the War had also pledged to shut the showroom down. They accused the Army of exploiting youth unemployment in Hackney in a bid to recruit people from poor areas with fewer career options.
They occupied the showroom at Kingsland High Street as part of their protest and two people were arrested and later acquitted of alleged offences.
An Army spokeswoman has stressed that the closure is temporary and is due to health and safety reasons so the office can be refurbished.
There is a leak in the roof at the showroom.
She said: "We are taking the opportunity during the repairs to have a look at what we have got in the showroom and moving them around.… Read more